– Cet article est disponible en français.
Hello Psiko! Thank you very much for this interview, would you please introduce yourself to our readers, how long have you been a part of the TR community?
Hello Hedi! Thanks to you for giving me the opportunity to do this interview! It is an honor and a pleasure ! I am Antonio Tarantello, but inside Tomb Raider community I am better known as Psiko. This nickname came during my university days, a few friends used to call me that, because back then I was considered crazy and weird (laughs) but in a good way of course. I have been a TR fan since the very beginning, I played the first Tomb Raider game back in 1996 on the Sega Saturn, which some may remember as the first console Tomb Raider was released on. So when I finally joined the Tomb Raider community on the internet, back in year 2000, I used that nickname on Eidos forums and a few Italian forums.
The end of 2000 was the period Tomb Raider Chronicles came out with the level editor for PC, and the editor itself was the reason that motivated me to find friends to share levels with. That said, I immediately started building my first level, which I never released, but at that time I wanted to share it with everyone and play other custom levels too. So I did a bit of a research on the internet and I found out that there was a whole community out there, and that some of the players were actually building their own levels. What I can say here is that Tomb Raider and the TRLE changed my life for the better, it gave me some of the most satisfying memories ever. I really enjoy building levels and being part of this community, so I would love to communicate this joy to my players.
When did you first started level editing and what was your first project?
TRLE came out with the possibility to build Egyptians levels only, because we could only customize a few things when we started. We could only change the main textures of the levels, nothing was possible for items, like enemies or outfits. So, we could only build Egyptian settings or give up. My first project was one of a different kind, since the beginning, I used custom textures because I wanted to build a high tech level even while reading the manual for the first time, and since we could use only Egyptian doors, vases, enemies, puzzle items, I invented the « TechnoEgyptians », a technologically advanced empire based on Ancient Egypt. That was really an early idea and the level that came out, even though it has a good gameplay, has never seen the light of day. I'm still keeping it as a secret work of mine. So, TechnoEgyptians were born because of the limitations of the early version of TRLE and the opportunity I seized. The first level I released, after five months of work, was « TechnoEgyptians' Portal », which featured for the first time a new 3D custom outfit for Lara, the first one with a new 3D shape that was in a Tomb Raider level and wasn't from Core Design themselves. It wasn't the best outfit ever, but it was a big achievement. TechnoEgyptians Portal was some sort of a demo level from the complete game, « Tomb Raider A – The TechnoEgyptians ».
A few years ago, you released the famous « HyperSquare » level, what is the story behind it?
HyperSquare was never promoted as a follow-up to « Tomb Raider A », because it mostly has a story of its own. As it is divided into different parts and since I have only released the first part (and will release the second part eventually) it is basically a follow-up to the « universe » where TechnoEgyptians are real. The story told in « HyperSquare » begins with a discovery near the Sun ; a breach in the space-time continuum which appeared mysteriously and is considered malicious. Lara has to find out what is happening there. I needed a character to collaborate with her (hence an actor), but it would haven taken a very long time to develop to find the right person, possibly years, I couldn't ask anyone to play that role, so I put myself into the game, and with that, created the first live action with 3D graphics (FMV's) featuring Lara herself. It was not out of vanity, I simply could not ask anyone either on the internet or in real life. Having to work for so long on a project of this kind was too much. Putting myself in the game was the best and the fastest choice in my opinion, because I wouldn't have had the need to explain anything to anyone.
In « HyperSquare », Lara gets information about the myth of the Cornucopia and eventually creates an « out of place artefact » called 'Oopart', that's the skull of a buffalo she accidentally shot. She gets in contact with a mysterious society of « Eternals », we still do not know exactly if they are good or evil, but after a few jumps in different periods such as Egypt in 2800 B.C, the Ancient Russia in 47000 B.C, in Philadelphia during WW2 around the time of an experiment Albert Einstein supposedly took part in. But also in the « HyperUranium », a futuristic place in year 2536, then in the Ancient Roman Empire in Venice in 583 A.C, the Great Wall of China in 195 A.C, and finally the Cretaceous, over 65 million in the past, right before the impact of the meteor. We finally get to know that HyperSquare's story and the mysterious breach are linked to TechnoEgyptians themselves.
The journey is almost 4gb heavy! Could you tell us how did you have the idea of making such a huge level?
And it is going to be much bigger! « HyperSquare » is only the first « season » of many, at least 3 are planned. They will be all playable at once, as one bigger game without breaks. I am talking about « seasons » and not « parts » of the game, because they should be considered just like a season of any TV show, each level is an episode with its own story, but it's rooted in the main plot and the bigger picture is progressively unfolded too. Of course, there is always a « season finale » that closes some of the plot threads of any given season, but contains some cliffhangers from the following seasons, opening the story plot again. The reason as for why the game's size is so big is because of the technique I used to build levels: one single playable level is now about 100MB, some of them are even bigger. So you can understand that a complete game with many playable levels must be very dense. Furthermore, I am using many FMVs to tell the story, and sadly those are « heavy » too. I don't want to crash your PC or waste your hard drive space (laughs), but I want to give everyone a big adventure game that you can dive into and enjoy freely. Those who play my levels already know what to expect from me after 17 years of experience with the level editor, so feel free to download those levels yourself!
What about your latest project? We know for a fact that you are developing season 2 of HyperSquare, what's new and what are you planning on doing with it?
HyperSquare – Season 1 came out in April 2014, but I had already been developing the second season for a few months. Season 2 levels have been ready since 2014 or 2015, but I needed one more year to build all the FMVs the story required. The whole game itself has been ready for many months, but there are a few bugs that need to be fixed, which I can't do anything about: I need an update of the engine from Paolone (Paolone is the developper of Tomb Raider Next Generation, a patched level editor that makes level editing more fluid and easy). They really are minor bugs, but I want to do as much as possible to avoid bugs, because people are going to download a very big file, so the least I can do is give them a fair product. Besides, I was hacked in June 2017, which interrupted the development for some months. I was able to rescue all the levels, but I needed to re-build 12 FMVs. This added about 6 months to the development time, but in the end, the game is ready. The sad news is that both levels must be released all at once for technical reasons ; my idea was to release two builds : the first one being « HyperSquare – Season 2 » alone, and another build, which would have been a package of files to link season 1 and season 2 to play the two seasons altogether as a one bigger game, the purpose being to let the player to download only one game if they already had the first season, or download the entire file if they didn't own it yet. But because of that attack, season 1 and 2 cannot be separated any more, so I am going to release HyperSquare season 1 and season 2 bundled up together.
In short, HyperSquare season 1 gets a re-release but it will be slightly different from the previously released back in 2014: all reported bugs are fixed, and many improvements with the gameplay were made, making it easier and more enjoyable than before, since I was asked to ease the gameplay. You can see some of the easier tasks from the YouTube video below.
As the player, you can play the updated season 1 without breaks, and immediately jump into season 2. Or, for the ones who wish to play season 2 directly, I will provide my own savegame. Season 2 will start exactly where season 1 ended, and the plot is gradually unfolded. There will be many novelties, such as a new vehicles and new pieces of gear for Lara. The story told in HyperSquare – Season 2 is linked directly to the movie « Tomb Raider – The Cradle of Life ».
Do you think HyperSquare – Season 2 will be released soon?
I would have already released it if I didn't had this setback in June, or the bug fixes I need from Paolone (laughs) I'm hoping season 2 will be out next month! 🙂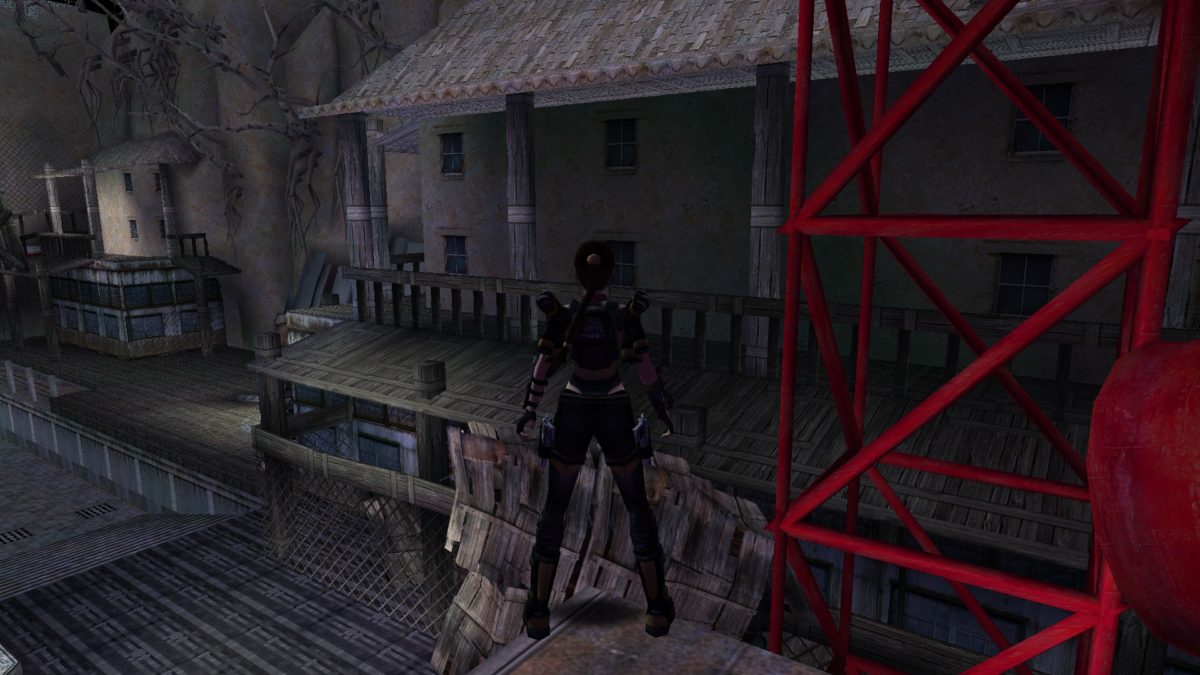 What's next? Do you have any ideas on hold? Or are you taking a little break?
Luckily I have many ideas, even outside of « HyperSquare », but no breaks for now. Season 2 was in development even before season 1 was released, season 3 of « HyperSquare » has been in development since June 2017. I hope it will be the craziest and most beautiful levelset I have ever done. At least, that's my intention. For now I am really satisfied with the first two levels of HyperSquare – Season 3 that I already produced. If you liked my levels, I hope you'll like HyperSquare season 3. In theory, it should be the conclusion of the « HyperSquare » series… that is if I don't need to split it for a fourth season. But it's too soon to say just yet, for now, let's concentrate on the upcoming « HyperSquare – Season 2 »! 🙂
Thank you for your time and your answers, Antonio, I wish you good luck for the rest of your adventures!
Article update made on the 22nd of April 2018.