– Cet article est aussi disponible en français.
Hello Raymond! Thank you so much for taking the time to answer our questions! First, could you please introduce yourself to our readers?
Hello Tomb Raider fans from France and around the world! My name is Raymond Croft, I love Tomb Raider and Chicken wings! And on occasion, I cosplay as Lara Croft for fun.
When did you first start to cosplay?
My first-time cosplaying was at San Diego Comic Con 2015! I cosplayed as classic Lara. Ever since then I loved cosplaying! I started to make my own props as well. I had no idea that the first time I laced up my Lara boots would definitely not be the last.
What inspired you to become a cosplayer?
I have so many friends that I know call family that lead me into cosplay. Like many Tomb Raider fans, Jenn Croft and Shona were HUGE inspirations for me! I remember being a kid and watching Jenn's fan trailers on YouTube. Jenn has also taught me so much, including how to teach myself certain crafts. I would've been lost without her!
Once I got into cosplay, I just loved dressing up as characters from games and nerd media that I loved. I still have so much more to do! So many genderbends, too little time.
As of today, you are an official Tomb Raider cosplayer, and even a community ambassador, could you tell us more about how all of this happened?
My first official event that I worked as a cosplay ambassador was the Shadow of the Tomb Raider reveal event in Los Angeles! It was such an amazing and fun experience. Everyone was so warm and welcoming to a genderbent version of Lara Croft. It made me feel great, and I knew I did Lara justice.
Would you want to share some of the events you covered as an official cosplayer?
I've done The Shadow of the Tomb Raider reveal event, E3, and San Diego Comic Con. All 3 were different but amazing experiences. San Diego Comic Con definitely being my favorite. The people that came to the event were great and everything ran so smoothly! That event was awesome and there were snakes! (EN: Raymond has a pet snake!)
Did you ever cosplay as somebody else?
I've done a Catwoman, Clementine cosplay. My Catwoman cosplay is probably my most favorite thing that I've created! It was completely my vision and I executed it exactly how I wanted!
Can you tell us about your experience being a male Lara Croft cosplayer?
Being a male Lara Croft cosplay has been nothing but amazing! Lara is my icon through and through and cosplaying as her has given me some of the most amazing experiences of my life. Loving Lara goes beyond cosplay! Jenn Croft, Meagan Marie, and I usually try to plan a Lara Croft adventure trip at least once a year! We have been to a bow making class, ice climbing, and most recently river rafting. Can't wait to see what we do next!
Excellent! Now, let's focus on your most recent project; In February 2019, you teased a fan trailer you were creating on your social media platforms. Can you tell us a bit more about it?
I had the idea to make a apocalyptic Lara Croft cosplay over a year ago! I loved the idea of Lara living in a world that she couldn't save and it being her fault! The story for my fan trailer is based off the story of Tomb Raider the Last Revelation, except Croft didn't save the world. It's set 2 years after Croft took the ankh from Seth's Tomb and unleashed his Spirit. His Spirit possesses Von Croy, played by Saylum Croft, and Croft has to find a way to stop him, and that's all I'll say for now. You'll have to see the rest when the trailer drops!
Could you tell us what motivated you to create this trailer? When are you planning on releasing it?
The trailer is releasing this Friday September 20th on YouTube. I've always had a dream to create a Tomb Raider fan trailer, I just never knew what story to tell as I wanted it to be original. While my trailer is based on the Last Revelation, I can say with confidence that this is an original story with a few twist.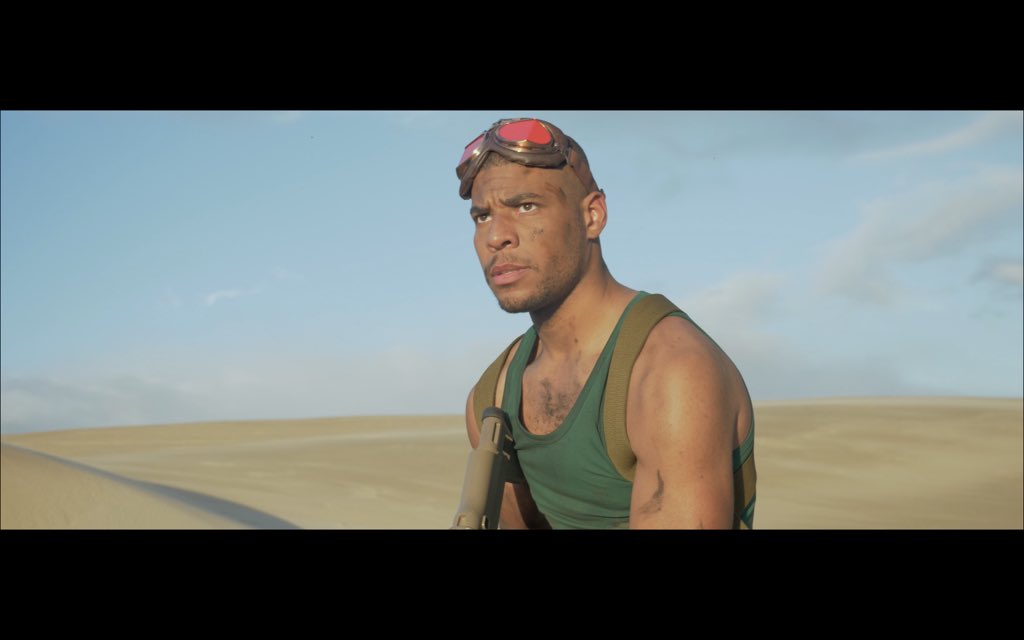 Is there a message you wanted to share with this trailer?
The ultimate message of this trailer is that you don't have to look like Lara Croft to achieve the idea of who she is. Lara Croft is a state of mind, and it was so fun to tap into that in order to play her in a trailer. Taking pictures in Lara cosplay is completely different then acting as her in film, I just hope I did her justice!
What are your plans for the future? Do you have any cosplay in progress right now?
I do have other cosplays in progress, but it will definitely be awhile to get them done hahaha after the intensity of this trailer, I definitely need a break from cosplay for a bit.
Well that's a wrap! Thank you so much for your answers Raymond! I hope we'll hear about you in the near future!
Thank you so much for interviewing me! Till next time!
You can find Raymond Croft on Facebook, Twitter and Instagram to follow his adventures! A link to watch the fanfilm will be shared at the beginning of the article once it is released later in the day!